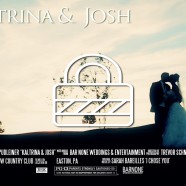 Jan

20
Tags
Related Posts
Share This
Kaltrina & Josh – Signature Edit – Riverview Country Club Wedding Film
WOW! What a wedding!
Every once in a while you have a stunningly good looking couple. And quite often you have a couple that is deep down a truly down to earth, fun as heck, just plain good people. Rarely do you have both… and apparently when you do you get the type of day we had at Riverview Country Club. Vista-like views, whether from the windows of the Grand Eastonian in Easton or over the endless hills at Riverview, are not what you expect when shooting a wedding in eastern PA! Maybe Hawai'i. But Easton? Yes, absolutely.
Sometimes you're running around while the couple is preparing for their big day and you just can't help doing a little sway dance to the iPod they have pumping music to the room while feeding off the energy from their family and friends. That is the feeling I get with this Highlight Film. I hope we were able to capture just a little bit of what made this one of my favorite weddings to be a part of!