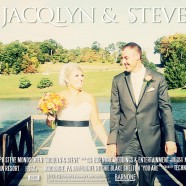 Oct

16
Tags
Related Posts
Share This
Jacqlyn & Steve – Bear Creek Mountain Resort – Same Day Edit Wedding Film
I had been looking forward to doing this wedding for a while. The couple had told me about all of the unique twists they were going to throw on the Reception, and there were even a few surprises for them courtesy of their Mothers as well! I do admit that the prior Thursday weather forecast had me a bit concerned, but what do weathermen know, it was absolutely perfect out the entire day!
The Ceremony at St. Mary's in Catasauqua had a few unique personal touches as well, with many more family and friends being involved then usual. I thought that was such a great way to personalize their Ceremony. And afterwards at Bear Creek Mountain Resort in Macungie, PA the plans that they had for the Reception were simply knocked out of the park. At one point during the entrances, first dance mash-up, and personal song sang by the entire crowd for the new couple, I actually caught myself just enjoying the show and had to quick look down at my camera and get back "in the game!"
Our crew was so happy to be a part of this day and wish to thank and wish the new couple a life that is equally as fresh and exciting as their first day of marriage was.
Signature Edit